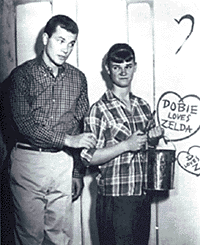 TV's former funny lady - Lily Tomlin (Laugh-In) - is slated to attend a fundraising event in support of State Assembly candidate Tori Osborn on April 5th alongside fellow stand-up comic Hal Sparks (Queer as Folk ) and comedy writer Bruce Vilanch.

Former California State Senator - Sheila Kuehl (Zelda of "Dobie Gillis" fame) - was also included listed in the guest-speaker line-up at press time.

Tickets range from an affordable $50 a pop to a whopping $1000 (for VIP treatment?).

Contact:



tai@taievents.com



Actually, I am able to boast a couple of intriguing past "connections" with Ms. Tomlin.

Years ago - we crossed paths, for instance - when the talented comedienne was a client of "A Professional Answering Service" which was owned by a couple of friends of mine in WeHo.

Now-and-then, I'd lend a hand on the busy phone lines (the boys actually used a PBX switchboard like the one in the comedy sketches with "Ernestine" the telephone operator), and on occasion actually have the golden opportunity to chat with Lily "anonymously" on the other end of the line.

APA also provided live message service for the likes of Alice Cooper, John Travolta (!), George Maharis (a friend of mine), Alan Carr (who nearly cast me in "You Can't Stop the Music"), Hugh O'Brien, Don Johnson, and Raquel Welch (to name a few).

I actually penned a post on the experience in memory of the hit movie "The Bells Are Ringing" (which starred Judy Holiday) when Ms. Welch received a prank call from a heavy breather one night.



Post: 02/01/08





http://ijulian.blogspot.com/2008/02/raquel-welchhas-heavy-breather.html



A couple of decades later, I actually appeared in a scene in an elevator with Ms. Tomlin, on the big-budget feature "Big Business" (also starring Bette Midler).

During rehearsals, Lily actually turned to me at one point, and quizzed me on the status of her makeup.

"Do I look alright," she pestered me (jokingly) out-of-the-blue.

"Flawless, Lily!"

Finally, I was covering an event at a film festival in Culver City a few years ago, and met Ms. Tomlin for the first time - formally - when she appeared on stage in a panel discussion with the legendary comedy writer Carl Reiner.

I expect my dalliances with Ms. Tomlin will continue far into the future.

See 'ya at the fundraiser, eh?