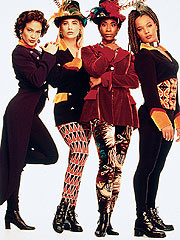 Jennifer Lopez may be tearing up the stage with her ultra-sexy gravity-defying dance moves once again!
Say what?
Fans may recall that the "American Idol" bench-warmer was one of the fly-girls that flitted by on the popular comedy show - "In Living Color" - which starred hilarious Keenen Ivory Wayans and a posse of his pals.
Now that Wayans is hinting that there may be a "reboot" of the ratings-hit, the rumor-mill is running at full-tilt.
If the hilarious variety show revs up the airwaves once again, will the cast be brand-spanking-new, or rife with celebrated ensemble players from the past?
Like, Jim Carrey, for instance?
And, the tempting venture poses the obvious question, too.
Will Wayans be able to "woo" back - Ms. "big bucks" Lopez - into the fold?
It is wholly possible that Jamie Fox may be waiting in the wings, too.
According to Tommy Davidson, one of the original cast members, Wayans dialed him up on his cell in recent days.
"Are you ready for an adventure," he allegedly cackled at the other end of the line.
"I use to drive him crazy on the set," Davidson joked in a recent TV interview.
"We were like a crazy quilt. Each of us had something to offer the show each week."
Judging by the success of the landmark Fox hit, obviously something clicked, that's for sure.
Recently, in a post on residuals, I noted that I appeared in a "Brothers Brothers" segment with Mr. Wayans and Jim Carrey a few years ago.
Post: 03/24/12
http://ijulian.blogspot.com/2012/03/residualsan-actors-rain-day-funds-45.html
All my Caucasian actor friends were so darn envious of the fact I landed the gig.
"How did you weasel your way onto In Living Color," they quizzed me starry-eyed.
In response, I joked that I was one of the token "whites", that's all.
If "In Living Color" returns to the old boob tube - I wonder - will I get a call from the "boss" to shuffle down to the studio, too?
Stay posted for updates!
Meanwhile, "In Living Color" will be honored with the prestigious "Groundbreaking Award" at the "TV Land Awards" 10th Anniversary celebration (2012), which is slated to tape on April 14th in New York City (and broadcast later in the month).
There will be a tribute to the trailblazing cast members: Keenen Wayans, Jim Carrey, David Alan Grier, Shawn Wayans, Shawn Wayans, Marlon Wayans, Tommy Davidson, Kelly Coffield Park, Kim Wayans, and T'Keyah Crystal Keyma.
Congrats to "In Living Color"!
Tune in, if only for nostalgia's sake, eh?