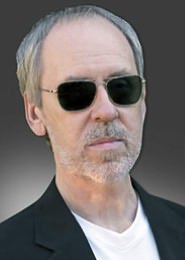 For fans of Tom Epperson, the cozy little shop on Sunset just shy of Larrabee Street (where intriguing maze-like aisles lined with rickety shelves stacked full of books beckon from bottom-to-top) was the hottest ticket in town on Tuesday night.
Uh-huh!
Book-lovers and avid readers alike - drifted in to "Book Soup" - to mix-and-mingle, be entertained by a handful of excerpts from Epperson's latest publication (Sailor), and participate in a lively Q & A.
At least one celebrity guest was spied flipping open the attractive hard-cover offering in the packed house that rainy night, as I took stock of the upbeat festivities from a perch on high near the front door (which afforded me a crystal clear view of things unaffected from afar).
For example, I spotted quirky actor Billy Bob Thornton (sexily attired in black jeans, designer "t" and ubiquitous baseball cap pulled down over his crusty old familiar face) standing on the sidelines engaging in a low-key conversation-or-two with the locals (content to be out of the spotlight for a change).
Thornton was on hand to support his good friend, Epperson, a fellow writer he often collaborates with on the literary end of things.
Epperson, for those of you in the dark, is a native of Malvern (Arkansas).
The writer received a B.A. in English from the University of Arkansas at Little Rock and an M.A. in English from the University of Arkansas at Fayetteville, then headed for the west coast to seek fame and fortune with boyhood friend Billy Bob Thornton.
Since those inauspicious beginnings just a scant few years ago, Epperson has manged to surface to the top, after co-writing scripts for flicks such as "One False Move", "A Family Thing", "The Gift", and "A Gun, a Car, a Blonde".
Epperson's book "The Kind One" was nominated for a 2009 Edgar Award for Best First Novel.
The author (currently residing in the Los Angeles area) is
a down-to-earth articulate dude - who didn't disappoint earlier in the week - as far as guest speakers or best-selling authors go.
Obviously!
On the heels of his talk, fans quickly queued up with books in hand (some were inclined to snap up three or four in one fell swoop) to have their precious copies personally signed by the talented writer.
There was a definite buzz in the air, too, as the well-heeled crowd sipped on bubbly, snacked on scrumptious finger foods, and perused the store's other offerings during the course of the passing parade.
"Book Soup" is one of the "best kept" secrets in town where authors often appear with little fuss-or-muss to unveil their work and mingle casually without reservation in spite of the madding crowds that tend to hound one.
In fact, I am just now reminded, that it's time I put my name on their mailing list so I don't miss any of their exciting upcoming book events slated for the calendar in the near-or-distant future.
See 'ya there, eh?
By the way, good luck with "Sailor", Tom.
For gays in the neighborhood, It's probably already conjured up a truckload of homoerotic fantasies, just betcha!