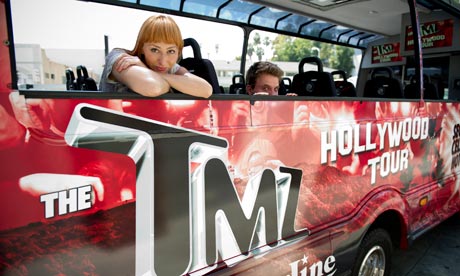 I was quite thrilled to spy the TMZ tour bus cruising through the heart of West Hollywood (affectionately known to the locals as Gay Gulch) yesterday afternoon.
After all, I've been out-of-town for months, and missed the initial launch of Harvey Levin's new glitzy venture in Tinseltown.
The TMZ entry into the sight-seeing game is a festive one!
The ubiquitous big bus is bright red - with the show's name emblazoned an eye-catching scrawl on the side - and features wide-open windows which afford tourists the opportunity to hang out beyond the tight inner confines of the fun chariot to snap up-close-and-personal photos of the landmarks they routinely encounter 'round town in slow traffic mode.
I expect the driver drove by the little Motel on La Cienega Boulevard (just north of Santa Monica Boulevard) and pointed out the humble digs where rock star Jim Morrison (of "Doors" fame) once hit the sack each night before his musical career eventually catapulted the sexy stud muffin into the pop stratosphere (and infamy).
Just a hop-and-a-skip around the corner, at a popular eatery nearby, tourists may also be wowed by a plague on the front of the establishment which notes that "LA WOMAN" was pressed onto Vinyl at that very site where a recording studio once stood many moons ago.
Just down the strip a few blocks, folks also usually alight from their tour buses at the curb at Doheny, where a finely-crafted sign marks the border of Beverly Hills.
On many occasion, I have spotted tourists snapping candid shots of themselves, so they can boast about the fact they actually took a trek through the tony enclave (populated by movie stars and the ultra-rich) which stretches for miles to the West just shy of the ocean.
Across the street is the Troubadour where Elton John first-performed in Los Angeles!
The club is still a popular place for local bands to gig.
Of course, there is one timely tourist attraction that is probably pretty popular just now, too.
At the corner of Wilshire and Santa Monica Boulevards, a heartfelt shrine flows into the street at the edge of the Beverly Hilton Hotel propery, in honor of Whitney Houston.
If you take a stroll by, take some tissues, eh?
You'll need 'em!