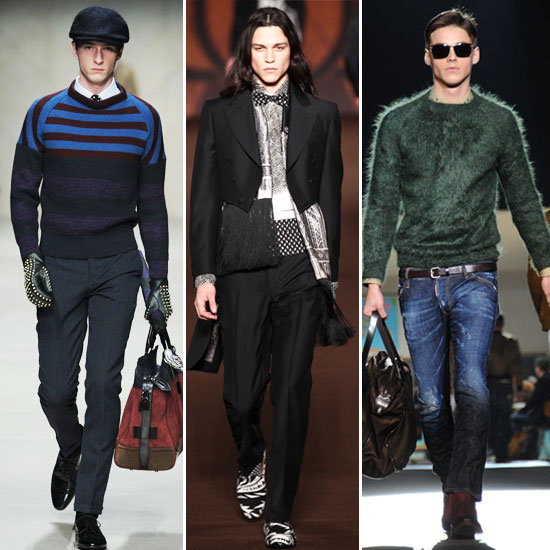 If men's fashion designers have any say in the matter this fall, the city terrain will be populated with a posse of cowboys, virile lumberjacks, and gung-ho military types strutting their machismo.
Meanwhile, a slew of discerning male animals may be throw caution to the wind and surge ahead of the pack with wardrobe ensembles that tout the pampered peacock "look".
Three-piece suits are going to make a grand entrance, and they'll be sparked up with understated elegant accessories (rakish hats, butter-soft gloves, designer scarves that flap in the breeze) that scream "to the Manor born".
Patterns - fashioned in cashmere, velvet, and traditional flannels (updated to pop) - will run the gamut from plaid and wide chalk stripes to reinvented hounds-tooth stand-outs.
Self-respecting dudes - who savor comfort and style - will be springing for high-end footwear that also underscores and draws attentio to their signature style (high-tops, low-tops, snazzy designer runners, you name it).
When it comes to outerwear, confident men-about-town will be trying their hand at mixing-and-matching, especially when it comes to sweaters, vests, and versatile windbreakers and luxurious pricey topcoats.
In fact, sweaters (pull-overs, zip-ups, cardigans with eye-catching ribbing and other fashion flourishes) will surge forward into the limelight in all their glory.
It's all in the details, after all, when it comes to putting one's best fashion-foot forward.
In the final analysis?
It's style - not the clothes - that make the man.
This year, as the modern man boldly goes where he has never gone before, he will take his rightful place as King.
No wonder!
It's a jungle out there, after all.