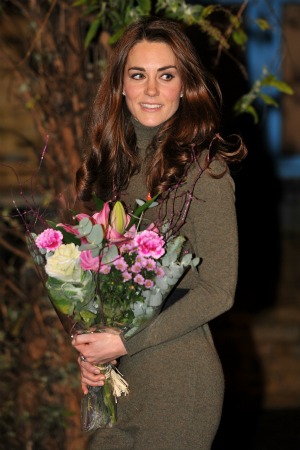 Gosh, I can't dredge up one memory - or recall - how I spent my 30th "B" Day.
Was I that sloshed in the high-flying 80's???
In contrast, the Duchess of Cambridge (aka Kate Middleton) will no doubt fondly remember that on the eve she shed-off the "twenty-somethings", she tripped-the-light-fantastic at a red carpet premiere for "War Horse" and rubbed shoulders with the likes of studio mega-mogul Steven Spielberg!
Though there was a light drizzle last night in old foggy London town, neither Kate or William, let it rain on their parade.
Once again, Kate wowed with a mega-watt smile, and a chic wardrobe ensemble that fashionistas were chomping-at-the-bit to copycat.
Uh-huh!
When it comes to actually celebrating the big 3-0, well - according to palace insiders - there are no heady plans to toss a glitzy soiree, kick up chic heels, or partay 'til the wee hours of dawn.
Of course, there will probably be a dozen precious roses (and yummy chocolates?) from her dotting significant other, to symbolize his unfailing love.
And, Royal handlers have also tittered that there may be a precious bauble or two coming Kate's way from QE2 (Elizabetth, silly!) to celebrate the landmark turning point in her young adult life.
From these quarters, she's expected to land on my 10 Best-Dressed List, due out later this week.
Happy Birthday, Kate.
By the way, Is there a baby bump on the way, too?
Stay posted for updates!