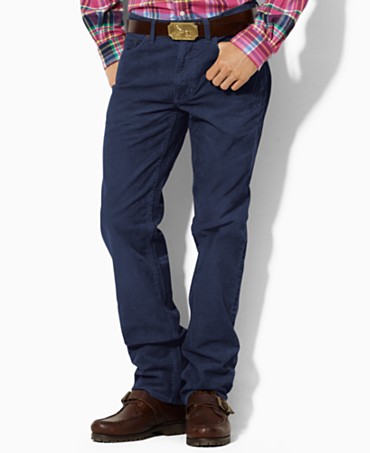 The racks of popular retailers - discount houses, too, like Ross - are packed with blue (and black) jeans in a myriad of styles right now (flashy designer threads with hefty price tags, loose-fit options for the casual-minded, and a bevy of eye-catching skin-tight selections to add sizzle to a "look") which appeal to widespread tastes across the country.
Though "jeans" are a standard staple for most on-the-go rough-and-tumble fashion-conscious males, there may be day when discerning males of a certain age may want to turn elsewhere for wardrobe pieces that truly flatter the physique.
After a quick once-over in the mirror a few days ago, I actually tossed the old faded blues, and reached for a pair of smart corduroys in chocolate brown when I was out shopping at Westfield Mall over the weekend.
When I teamed 'em with a stylish body-fitting "T", Guess leather jacket - and trendy black shoes - I alighted in the street confident and with a new bounce in my step.
A few heads turned, as well!
I don't suppose there will be any looking back for me, now!
I have posted a couple of ensembles designed by Ralph Lauren (pictured above & below) for dudes who need a little help nurturing a spanking new image along for the holidays.
Enjoy!