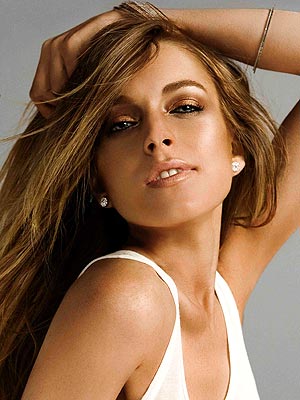 OMG!
Hef's in a panic over at the Playboy mansion.
Before you could say - "Bodacious Babe's Boobs on-the-loose" - an exclusive racy spread of naked publicity stills of the "Mean Girls" star was leaked onto the Internet.
Late yesterday afternoon - on the heels of the news - curiosity-seekers and a posse of lecherous studs were streaking through the blogosphere in search of pay dirt.
Gotcha!
First impressions?
There's a definite loss of innocence as Lindsay Lohan disrobes before the prying eyes of an unforgiving world - and reveals - a maturer-looking woman harder around-the-edges.
The slammer (and a truckload of designer drugs) will take its toil every time (proof positive).
But, there won't be any more pussy-footing around, at least not when it comes to getting down to the truly nitty-gritty.
After all, that clever (enterprising?) Ellen has nabbed a tell-all interview in which the troubled starlet will now bare her soul, too.
Is Lindsay laughing all the way to the bank?
Well, it depends on whether she negotiated a percentage of the profits, eh?
News at 11!