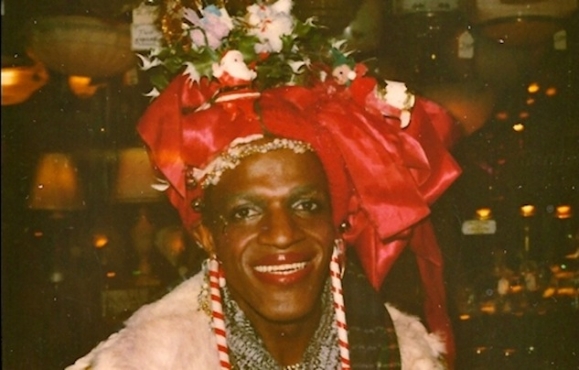 The IFC Center's Queer/Art/Film series - and generous sponsor Michael Musto - presented a dazzling World Premiere on Monday night:
PAY IT NO MIND: MARSHA P. JOHNSON
After the screening, a panel of Marsha's friends and colleagues sang her praises, according to my spies in the "Big Apple".
Marsha P. Johnson was a revolutionary trans activist, Stonewall instigator, Andy Warhol model, drag queen, prostitute, starving actress, and Saint (and all 'round downtown NYC fixture from the 1960's through her demise in 1992).
As legend would have it, Johnson persevered through a life embodied by her middle initial P, which stood for "Pay It No Mind."
And, eventually, a documentary was able to set the record - um - straight.
A message from Antony Hegarty about Marsha P. Johnson
Marsha P. Johnson, the namesake of my band, was a gay activist who started the seminal organization S.T.A.R. (Street Transvestite Action Revolutionaries) in the early 70s with her friend Sylvia Rivera (sp?).
They founded the "STAR house"on the lower East side in an attempt to provide shelter for homeless gay youth; Marsha and Sylvia paid the rent with money they made as street prostitutes. Among the legends about Marsha is that she threw the first bottle at the Stonewall riots; she was certainly among the faces at the forefront of the gay civil rights movement for over 2 decades, representing the community's most marginalized contingent. "Saint Marsha," as she was widely known, was also the kind of person who would give the shirt off her back to a stranger in need, and was once sighted giving all the money she had panhandled that day to another homeless person.
Marsha starred in performances by The Hot Peaches, and she sometimes did impromptu quick changes on Christopher Street, whipping out wigs and feathers that she had hidden in the garbage cans along the stroll to the piers.
During Marsha's final years, she was taken in by lamp shop owner and activist Randy Wickers.
Her body was found in the Hudson River in the Summer of 1992; the cause of her death was never properly determined. She has been sorely missed since.
News Update
Tattler readers may recall that I reported on my early off-off-Broadway stint with the "Hot Peaches" in the production of "The Magic Hype".
It was during that outrageous period of my life that I struck up friendships with a handful of the notorious local characters in the lower east side - including, but not limited to - Jackie Curtis!
Post: 11/28/07
http://ijulian.blogspot.com/2007/11/jackie-curtiswarhol-star-on-edge.html