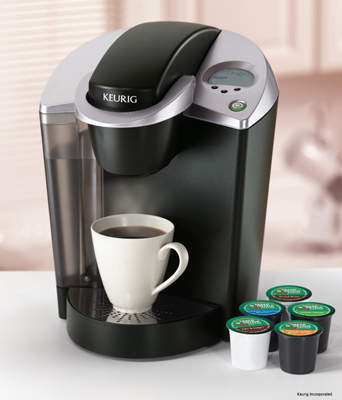 For the past couple of days, tourists and locals alike have been ecstatic over the free cups of java - light roast, dark roast - even green tea samples - being offered up by employees from Keurig at Powell and Market Streets (at the cable-car turn-around).
Of course, there has been a catch!
The coffee-lovers have been invited to step up and try their hand at brewing their own cup first-hand at one of their nifty sleek-looking coffee-makers.
Boy, are they cool!
And, the simplified process (just pop in a mini canister and hit the brew button) is a snap for any fool stumbling around in the dark with the cobwebs of sleep in their eyes at the crack-of-dawn.
I'm sold, for starters!
Now, if Keurig could find a few workers capable of waiting on folks with a smile.
After all, the staff on duty at the special promotion were a stone-faced grumbling lot.
What a turn-off!
Does everyone hate working for a living these days?