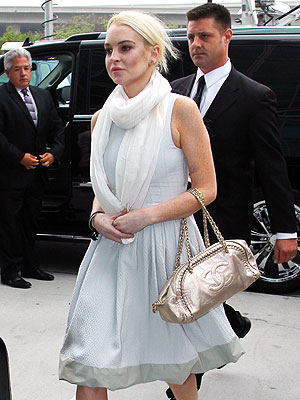 Lindsay Lohan made a stylish entrance into court yesterday morning for a probation hearing, but ended up with her nose out-of-whack at the end of the legal wrangling when the hanging-judge presiding over the proceeding found fault with the troubled starlet's flimsy excuses.
After ruling that Ms. Lohan was in violation of her probation, the Sheriff's were instructed to cuff the defendant, and lead her back to a holding area where she stewed for a few hours before bail was posted ($100,000).
At one point in the intense hearing it was obvious that proceeding may have been premature, though, go figure!
After all, as Ms. Lohan's lawyer pointed out to the Judge, her client was ordered to carry out her obligation within a year (the time limitation has yet to expire).
However, in view of the facts presented yesterday - and the mind-boggling comments uttered up by the dolled-up actress - perhaps a hearing was needed to clarify the issues.
For example, at one point Lindsay quipped that she did not find community service at the women's shelter very "fulfilling".
At this juncture, jaws must have been dropping inside the courtroom, I dare say!
Obviously, the troubled starlet didn't have a clue about the purpose behind a court-ordered community service directive.
Nor, did Lohan appear to appreciate how lucky she was to be granted probation from the get-go.
For good reason the judge was inclined to enlighten the bimbo babe about the reality of the situation.
"Probation is a gift," she stressed in no uncertain terms.
In view of the foregoing, I - like so many others - have begun to wonder.
Does Lindsay Lohan have a few screws loose or what?
Why is she having such a difficult time comprehending the obvious?
Which begs the question.
Will the Judge lower the boom and send Lindsay back to the slammer on November 2nd?
Stay posted!